Today, October 26, is the last day of K2022. Before the final curtain officially falls, we would like to take you back to Chen Hsong's booth B43 in Hall 13.
Chen Hsong, who has been exhibiting for many years, has once again demonstrated its focus on listening to the needs of users, with small but important improvements in machine design, and performance. What better venue than K, the most important platform in the global rubber and plastics industry to once again reveal new solutions to customers old and new?
A Smile to Welcome Guests & Many Smiles for the Future
Throughout the 18 exhibition halls of Messe Düsseldorf, more than 3,000 exhibitors from 60 countries displayed their technology and presented their products at various booths. What defines the success of a booth? The answer is often not the design of the booth itself, but the experience that the booth brings.
Chen Hsong opened its arms to welcome guests from all over the world, friends, professionals, partners, media, and new customers were greeted with a smile and each got to share information, ask questions, and receive advice from our international Chen Hsong team.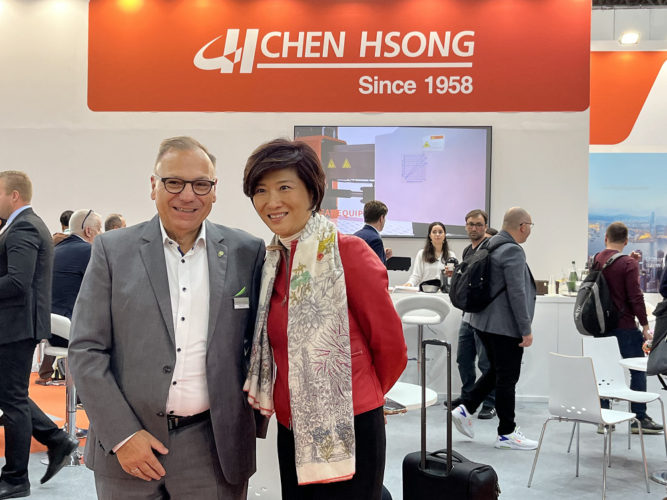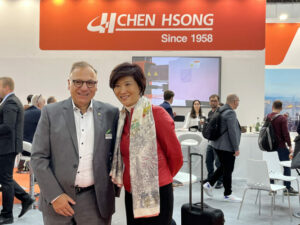 Redefining Productivity & Efficiency
Relying on our deep understanding of injection moulding technology, and in direct response to current market demands, Chen Hsong brought two important offerings to the show this time:
JM168-MK6.6 SERVO INJECTION MOULDING MACHINE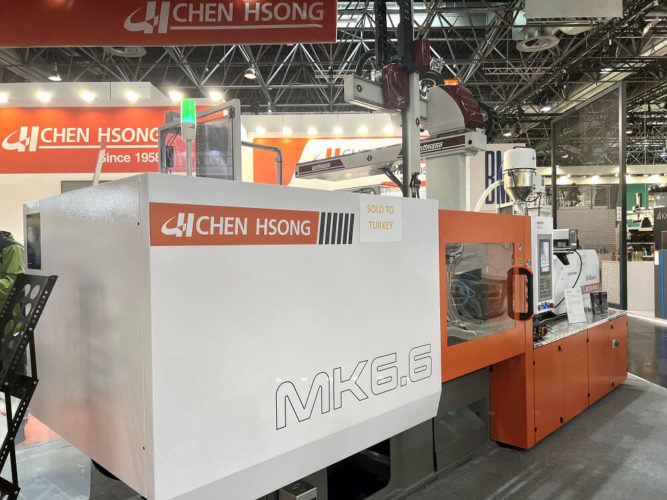 "SPEED-PACKII" FOR HIGH-SPEED PACKAGING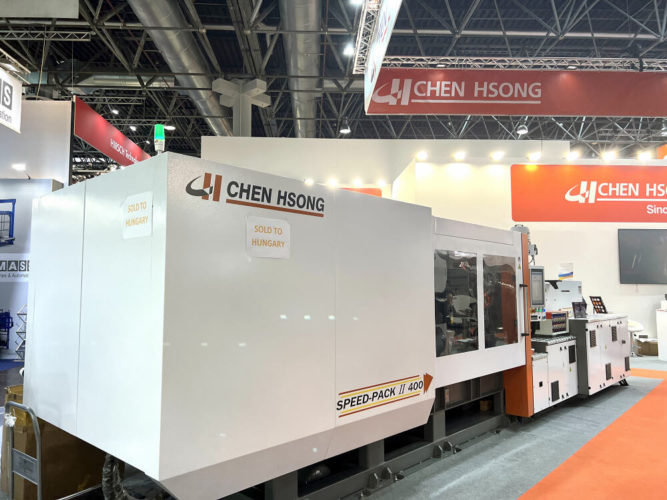 Our cost-effective solution carefully crafted for the recent economic changes attracted widespread attention, and the on-site start-up demonstration directed a steady flow of onlookers to our Chen Hsong booth.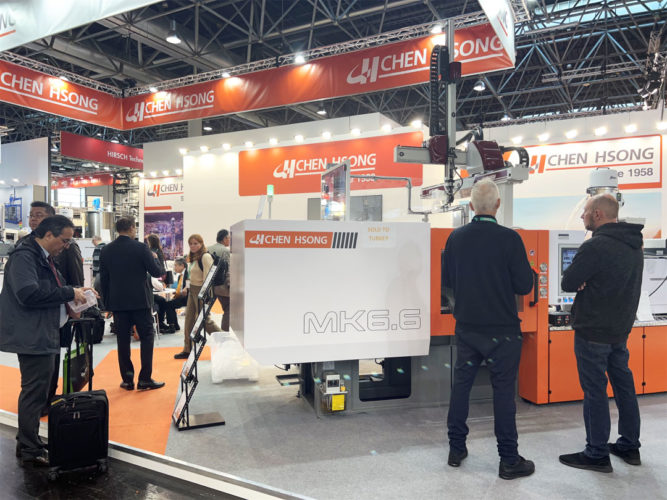 The Chen Hsong team also carried out full on-site exchanges with new and old customers and partners around the world, nurturing a better understanding of Chen Hsong's products and strengths and allowing Chen Hsong to have a deeper insight into market trends to accurately grasp customer needs. The task was successful and it's safe to say we greatly enhanced mutual trust with European and global partners and customers and solidified strategic and cooperative relationships.
Rejoice and Forge Ahead
The K exhibition in 2022, affected by yet another pandemic and the unstable global political and economic situation, saw a lower number of visitors than in previous years, but Chen Hsong's booth still managed to gain momentum.
With high speed, stability and energy saving, Chen Hsong machines were well received by professional audiences and favoured by customers. The two complete sets of injection moulding machines, moulds, robots, and auxiliary machines displayed on-site were the first to go followed by a flurry of new orders from customers desperate to get their hands on the new models.
Quality & Ingenuity Since 1958
The Chen Hsong Group has been in operation for 64 years. It has always strived for excellence and constantly surpassed expectations no matter in terms of performance or functionality, Chen Hsong injection moulding machines have demonstrated the global competitiveness of China's leading plastic injection machine brands.
Chen Hsong in the Media Spotlight
Chen Hsong also got its moment in the spotlight with Plastics News, CPRJ and many other global major mainstream media channels reporting in-depth on our displayed machines and solutions as well as exclusive interviews with senior management.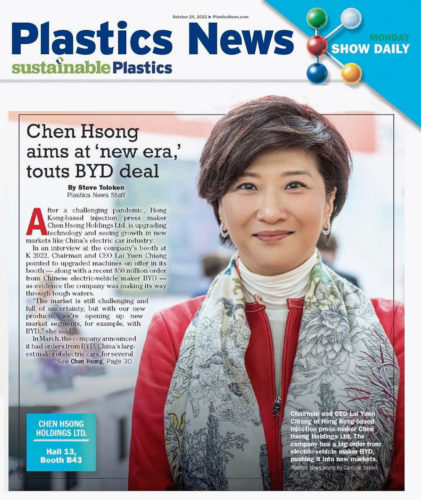 In an interview with Plastics News, Ms Lai Yuen Chiang, Chairman and CEO of Chen Hsong Group, emphasized Chen Hsong injection moulding machines' value in the electric vehicle market. She said: "BYD, the world's largest electric vehicle manufacturer, has built a very strong relationship with us, Chen Hsong has become the best choice for BYD with its powerful technology, affordable price, rich experience and first-class service."
Seize the Opportunity, Mould the Future!
China has the world's largest demand and market, it has the world's leading plastic injection moulding machine brands and products. Global injection moulding companies and customers are paying close attention to the Chinese market. China's injection moulding machine exports are growing rapidly, and the "Circular Economy – Climate Protection – Digitalization" theme has now become global with more and more companies developing more energy-saving, environmentally friendly, intelligent, and efficient products.
These trends consolidate our existing strategic policy:
Steady growth in our primary market whilst increasing international presence and remaining competitive in the global market.
Continued investment into innovative development strategy, spearheading technological advancements, and consolidating the core competitiveness of Chen Hsong products.
Unswervingly advocate the concept of green production, low-carbon emissions, and environmental protection. Fully embrace green manufacturing and the use of green materials. Provide customers with economical, efficient, and environmentally friendly injection moulding solutions.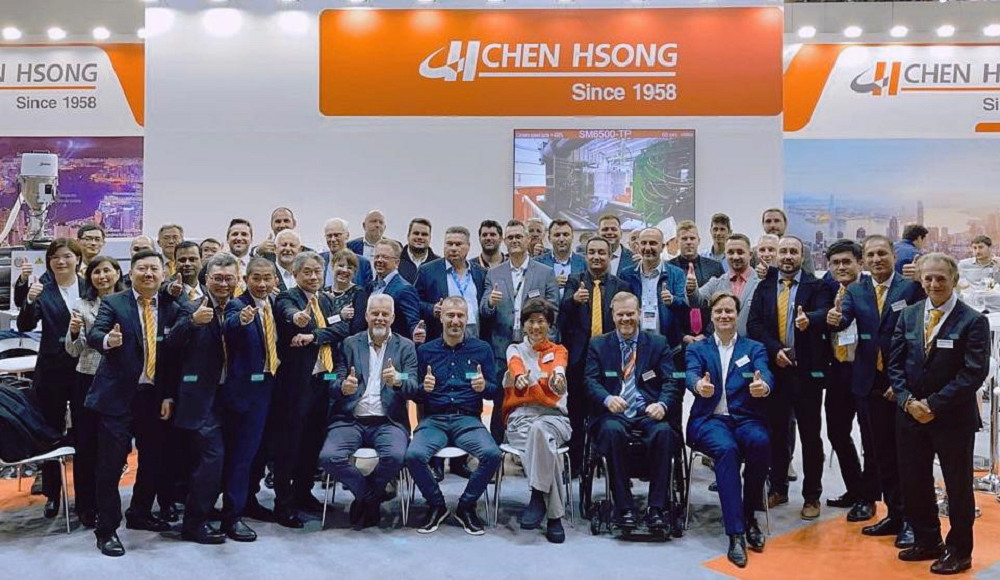 Conclusion
Although the K2022 exhibition has come to an end, the excitement and positive energy brought by Chen Hsong will continue on.
Chen Hsong will continue to forge ahead, embracing the bright future of sustainable development for the world's plastic industry.
The future is bright and Chen Hsong will continue to do better!
See you again in three years at K2025 Düsseldorf with friends old and new.